According to a recently published LA Times article, solar power plans for the Owens Lake bed have been cut down to size.

Details of the plan have been hard to come by since last year when interim DWP General Manager David Freeman first proposed the solar power project that would double as dust control on the Owens Lake bed. Since the idea first came to light, Freeman completed an interim, six-month management contract as the head of DWP, and what looked like a half-baked plan has been further cooked down to the bare essentials.
The DWP Commissioners originally approved a 616-acre, 50-megawatt pilot project on the lake that could expand to thousands of acres if the project proved successful. Since Freemans whirlwind promotional tour through the Eastern Sierra to drum up support for solar power on the lake bed, it now appears that engineering problems such as soft and corrosive soil have led to a much smaller project. The LA Times quotes a DWP engineer who says the pilot project may end up being five acres in size.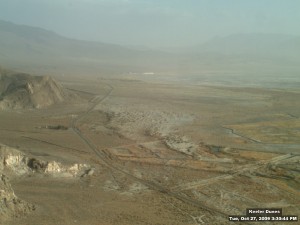 Freeman is no longer the head of DWP, but the Times article reports that the new interim general manager, Austin Buetner, says that the department still has plans to install solar panels on the lake. When Freeman arrived in the Owens Valley to tout his plan, it appeared that the project was on the fast track. Now, the project appears to have been moved to the back burner as Buetner told the Times that the solar plans were set to unfold very slowly.