Many years went by with very few birds on the shores of the Owens Dry Lake – drained dry of water with sparse vegetation. Times have changed, according to local Audubon Society members and others.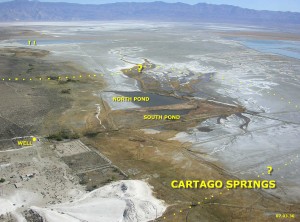 Through tough negotiations, LADWP agreed to fix the dust pollution and create habitat for birds. Mike Prather of the local Audubon Society points out that historically the Owens Lake offered "an enormous bird resource." In 1913, after the first LA aqueduct went in, the river was diverted away from the lake and it dried up. Since DWP's dust control project started in 2001, wildlife have returned. Prather said that water for the dust control has re-created a food source for birds.
In fact, bird surveys this year at the Lake counted between 42,000 and nearly 46,000 individual birds of many species. Prather points out that between now and 2010, DWP will complete the last phase of the dust clean-up with more shallow flooding and more wildlife habitat.
Audubon statewide and locally now lead the work to develop a comprehensive lake wide wildlife management plan for Owens Lake. The LADWP, DFG and Air Pollution Control District are also taking part in the plan.
Prather added that at the 200 acre Cartago Springs wetland at the foot of the lake, the Department of Fish and Game has used mitigation funds from CalTrans to work on habitat. This spot will become a wildlife viewing area for the public.