In the rainy, gray evening Saturday a big rig with an oversize load behind careened off Highway 395, hit a highway sign and crashed on some rocks. The driver suffered major injuries.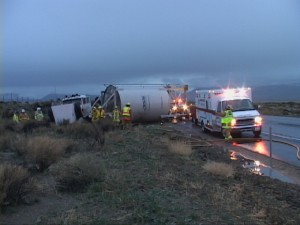 Rain fell hard and clouds lay low over the Owens Valley when the truck driver, headed south with a large, empty cement siloh as an oversize load, had a coughing fit and took his eyes off the road.
The CHP said the truck then hit the west edge of the highway and went out of control. The truck hit a highway sign and sheared it off. The front of the tractor hit a large rock. The back section overturned.
The Independence Volunteer Fire and Ambulance crew responded. So did Cal Fire, stationed in Independence, 5 units of the CHP, and Caltrans.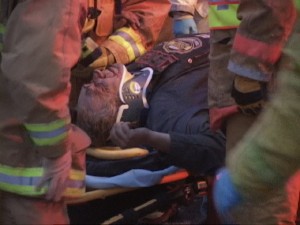 The driver of the truck, 53-year-old Gary Neville of Bakersfield suffered major injuries. The CHP said his face was cut and he fractured some vertebrae and ribs. Rescue and fire crew worked hard to get the man out of the truck cab. It took about a half hour. The ambulance headed north to Bishop and Northern Inyo Hospital.
CHP officers investigated at the scene on Saturday.