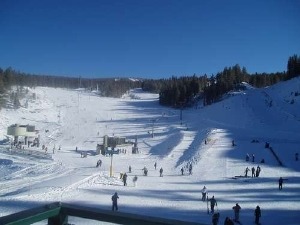 Still shook up over news that June Mountain has closed, people in the community and throughout the area wonder what comes next. The full meaning of that move is still unfolding for locals and for the Forest Service that holds the permit on June Mountain.
When asked how the Forest Service will respond, Public Information Officer Nancy Upham said, "We, the Forest Service, are working to set up meetings with Rusty Gregory and others at Mammoth Mountain Ski Area to discuss their decision and their plans."
Upham said the Forest Service wants to discuss security and patrol procedures for both this summer and winter in regards to the June Mountain infrastructure and access to the permitted area in general, including signage and avalanche control. Upham said, "These are our immediate concerns to discuss with them."
She also said that the Forest Service wants to discuss with Mammoth Mountain how they plan to go about assessing and planning for "a sustainable future for operations under their permit for June Mountain Ski Area."
Upham said the Forest Service would like to see this as a "transparent process, since so many people are interested and concerned about the future of June Mountain." Upham said the Forest Service does need to meet with Mammoth Mountain and begin this discussion before a process can be fully described.
Upham added that if Mammoth Mountain Ski Area ever decided to sell their improvements, the Forest Service may "choose to issue a prospectus for a ski area with summer recreation included."