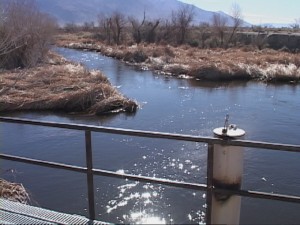 Owens Valley Committee Position on Public Observation at the LORP Summit
After giving MOU parties prior notice, the Owens Valley Committee (OVC) submitted a press release on Wednesday, July 23 inviting the public to observe the proceedings of the upcoming (July 29-31) Lower Owens River Project (LORP) Summit. We noted that space would be limited. On Friday, July 25, the Inyo County Water Department (ICWD) and the LA DWP (Los Angeles Department of Water and Power) submitted their own press releases stating that the LORP River Summit is not open to the public.
The OVC believes it very important that public business be conducted in public unless there is a compelling reason for secrecy. Neither ICWD nor LA DWP has given any such compelling reason.
As a party to the 1997 Memorandum of Understanding (MOU), OVC does not accept the authority of ICWD or LA DWP to deny public access to meetings of the MOU parties.
The OVC repeats its invitation to the public to observe the LORP River Summit on the mornings of July 29 and July 31 at 8:00 am at the DWP office in Bishop. We cannot control what ICWD or LA DWP will do, but OVC will try its best to allow the public to observe the proceedings.