– Letter to the Editor submitted by the Owens Valley Committee
The Owens Valley Committee met Wednesday to discuss short-term solutions for getting water to the valley's ranchers.  The group called this emergency meeting in reaction to Los Angeles Department of Water and Power's letter of April 27, which notified valley ranchers they'd be cut off from all irrigation water starting May 1.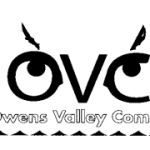 OVC has been aware for quite some time that ranchers are being squeezed by LADWP.  In its December 2014 newsletter, OVC wrote, "LADWP has long seen ranch water as a waste.  Over the last several years, they have attempted to coerce ranchers and farmer to reduce water use by financial incentives, and have successfully petitioned the County to reduce irrigation duty to 3 acre feet by the use of sprinklers on some parcels.  'Water conservation' has become a euphemism for exporting more water to Los Angeles.'  'Saving' ranch water isn't a good thing in the Owens Valley.  When a rancher irrigates with ditches, riparian habitat is formed, not only along the ditch, but through 'tail water,' or water at the end of the ditch that extends beyond the official irrigated parcel.  ['Saving' water] eliminates tail water and destroys riparian and meadow habitat that has been irrigated for decades, as well as killing the tree and shrub hedgerows between fields."
Pressuring ranchers about water use is nothing new for LADWP.  Deciding to cut off irrigation water entirely, however, is one of LADWP's most obvious, glaring violations of the Long Term Water Agreement to date.  Though LADWP rescinded this action on April 29, OVC is seriously concerned that LADWP has set an alarming precedent for future moves against Owens Valley agriculture.  Ranchers and farmers are important contributors to Owens Valley's economy, as well as stewards of the land.  Agriculture is the second largest economic driver in Inyo County.  $19.8 million in economic contribution, or 77% of total agricultural production, is dependent on irrigation.  Ranchers' entire livelihoods are at risk if they do not receive the water promised by the Long Term Water Agreement.  Bankruptcy of ranch owners means long term "water savings" for LADWP because there is no guarantee that the DWP will spread water as effectively as Owens Valley ranchers doing their day to day jobs.
Confusing and inconsistent numbers regarding water storage and supply were circulated at the "Talking Water Workshop" on April 28th in the Inyo County Board of Supervisors chambers.  The OVC would like to know the exact figures regarding water amounts LADWP has in storage at Crowley, Pleasant Valley, and Tinnemaha Reservoirs.  DWP is planning to send about 42,000 acre feet to Los Angeles this year. The reservoirs upstream of the Owens Valley could supply some of that water to ranchers instead.
Some options the Owens Valley Committee discussed Wednesday were:
Lowering the minimum flow in the Lower Owens River Project (LORP) from 40 to as low as 30 cubic feet per second (cfs) for the remainder of the run-off year.  This water would be reallocated to in-valley use.
Reductions in flows to the Owens Lake delta during the irrigation season.  This water would be reallocated for in-valley use.
OVC will only consider options that guarantee re-allocated water remains in the Owens Valley.
The Owens Valley has been in an artificial drought since the early 1900s when the City of Los Angeles began exporting water south.  This drought intensified in 1972 when LADWP began heavily pumping groundwater and sending it down a second barrel of the aqueduct.  Predictably, increased water export spurred increased growth—including water-guzzling lawns, ponds, golf courses, swimming pools, etc.—in the naturally arid Los Angeles basin and surrounding area, and created more of a thirst for Owens Valley water.  Like many western cities, Los Angeles has created a problem for itself by actively encouraging a "need" for more and more water.
The Owens Valley Committee appreciates any actions taken to cut back on water usage in Los Angeles—but the City needs to do more.  In deciding to issue a letter to Owens Valley ranchers cutting off their access to irrigation water on May 1, LADWP took unilateral and unquestionably illegal action in direct violation of the Long Term Water Agreement and 1991 EIR.  This is not a legitimate option.
The Owens Valley has been living in an artificial LA-imposed drought for more than a century.  The burden of sacrifice during this state-wide drought should not fall on the shoulders of Owens Valley's ranchers, thereby causing more damage to the valley's already severely depleted ecosystem.  The burden of sacrifice should fall on the shoulders of the City of Los Angeles.