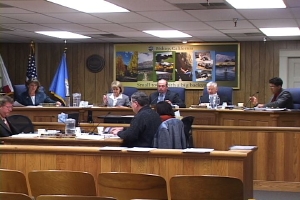 The Bishop City Council will start off their meeting tonight on a personal community note. The Quarterly Citizens Award will go to Roberta Cummings.
The Council statement about Ms. Cummings says she is a registered nurse and has spent seven years volunteering with Hospice of the Owens Valley. Cummings also serves as secretary and board member for the United Methodist Social Services. She coordinates the Soup Kitchen supervisors and supervises herself several days per month with menu planning, shopping, cooking, serving and cleaning up. Cummings also makes sure the shower ministry has soap, shampoo and clean towels. The City says Cummings also heads to the kitchen to feed volunteer groups who work on the community garden or repairing and painting homes. More tonight on Roberta Cummings.
On to other City business with a public hearing and action on the Housing Element Update. The Council will also hold a public hearing on a zoning regulation amending the C-1 zone permitted uses. This involves allowing, as permitted uses, retail sales outside of a building on private property by peddlers, solicitors and transient vendors who hold a City license.
The Council has also selected a Fullerton, California law firm as the new contract City Attorney. Long-time City Attorney Peter Tracy had announced he would retire in April. Tonight, the Council will consider a formal agreement with the law firm of Jones and Mayer. Ryan Jones of that firm would be the designated City Attorney, and Dean Pucci would become the Assistant City Attorney. The City would pay a retainer of $5500 per month. Separately, litigation would be billed at $185 per hour.
And the Council will consider the approval of a Memorandum of Understanding with Kern Community College District to provide Police Officer Standards and Training classes locally.