Some residents in Mammoth Lakes reacted with shock that Mammoth Community Water District will enforce irrigation regulations even though the snowpack looms high and the run-off flows are huge. In fact, in past years the Water Board did vote in an ordinance with continuous outdoor irrigation restrictions.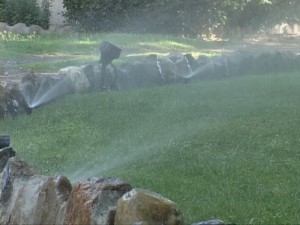 Always in effect – homes with even numbered addresses are allowed to water on even numbered dates and odd numbered addresses, odd numbered dates. No outdoor irrigation between 10am and 5pm. One local man, who contacted Sierra Wave, was surprised that water district employees gave him a wring merely for hand watering his lawn during the day.
MCWD Manager Greg Norby said there are no new water restrictions but are permanent rules that deal with water waste. "They are in effect all of the time," said Norby. He said the District wants residents to irrigate outdoors between 6pm and 9am. He said they also want to discourage excess run-off watering of the streets and sidewalks.
The Water District will host a Water Efficient Irrigation Workshop Friday, June 17 from 9am to 1:30pm at the district.