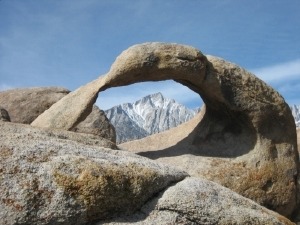 Interpretive Hike to View Natural Arches Planned for the Alabama Hills on March 31
Another in the series of interpretive hikes to view arches in the Alabama Hills is planned for late March.
The next hike is on Saturday, March 31 (weather permitting). Dave Kirk, Alabama Hills steward for the Bureau of Land Management's Bishop Field Office, will lead the hike.
"There are hundreds of arches throughout the Alabama Hills. Find out what geologic processes lead to their formation. This is a relatively moderate hike that enables you to view several arches in a seldom visited corner of the hills including the elegant 'Hitching Post' Arch. There will also be an option to make the hike into a loop, passing some historical movie locations and even more arches." Kirk said.
Participants should meet at 10 a.m. at the Eastern Sierra Inter-Agency Visitor Center in Lone Pine, corner of Routes 136 and 395. The beginning of the hike is just a short drive (about 10 minutes) from the visitor center. Carpooling is recommended.
The hike will take 1 ½ – 2 ½ hours and includes one moderately strenuous portion along a dirt road that descends and climbs out of a wash. Each hiker should carry at least one liter of water and dress in layered clothing for a range of temperature and wind conditions.
For more information, contact: Dave Kirk, (760) 876-6210, [email protected]; or Rich Williams, (760) 872-5033, [email protected].