Former Mammoth Lakes resident, Justin Ouimet, remains jailed in Washoe County Jail in Reno on two murder charges, and he is now charged with another crime.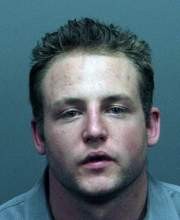 According to Reno-area news outlets, Ouimet has been accused of attacking a Washoe County jail deputy. Other news reports allege that Ouimet punched a deputy in the face before the deputy was able to restrain Ouimet in his cell on Saturday.
Washoe County Sheriff's spokesmen said that a felony battery on a police officer charge will be added to the two counts of murder and other charges.
It was in September that the 24-year-old Ouimet was arrested in the stabbing death of his estranged wife's grandmother and two-year-old son.
Sparks Police Sergeant Greta Woyciehowsky confirmed to us that Ouimet confessed to the two killings.
Locally, police confirmed that when Ouimet lived in Mammoth Lakes some five years ago, he did have an arrest record.