Darlene J. Orrill 1930-2016
Darlene was born February 10,1930 in Cogswell, North Dakota to Nellie Elizabeth Christianson and Wallace Everett Nelson.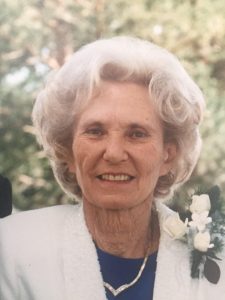 She had one older sister Shirley Mae.She lived her young life as a farm girl outside of Cogswell. She was always happy to tell her stories about about the hardships and fun times on the farm always making us laugh.
She moved with her family from North Dakota to California when she was a young woman where she met the love of her life, a young Marine, Richard Orrill. In pursuit of a quieter life for their family, They moved to Bishop from Southern California in 1958 to begin a new life together where she and Richard established a successful family business.
She genuinely loved being out and about, shopping at Josephs, having lunch and dinners with family and friends and being a true social bug along the way.
She loved her whole family, children, grandchildren, and great grandchildren and was always happy to have a party.
She is survived by her daughters Carolyn Felesina (Larry) Antoinette Tockey (Darwin) and son Richard J. Orrill (Trina)  grandchildren Austin Anderson,Liane De Giovanni,Nicole Felesina, Alyson Felesina, Jessie Lent, Ryan Lent, Nicholas Orrill, Emma Orrill, great grandchildren; Corey Mooty, Chayton Lent, Chenoa Lent, Katelyne Lent, Ryan Lent Jr, Savannah Lent.
She will be forever and dearly missed by all of us.
Graveside services will be held on July 23, 2016 at 1:30 at the East Line Street Cemetery.