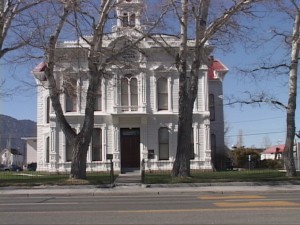 The three Mono Supervisors who voted against a proposed ordinance to further regulate politicking on the job in County government, explained that the ordinance was way too complex, threatened first amendment rights and left too many chances for misinterpretation.
Earlier, the issue was raised that Mono County code currently prohibits only rank and file workers from political activity during work hours in County buildings. The definition of employee does not include elected officials. The issue before the Supervisors started out with a focus on including elected officials in the restrictions, but the proposed ordinance grew much more complex. County Counsel Marshall Rudolph included a long list of exceptions – circumstances in which the ordinance would not apply like employee union meetings, statements at County meetings, any exercise of free speech. Supervisors Larry Johnston and Fred Stump supported it. Fesko, Hunt and Alpers did not.
Supervisor Tim Fesko said he felt the ordinance would hurt first amendment rights. He questioned if the ordinance would make talks on the courthouse lawn illegal. Said Fesko, "This ordinance was not the way to go." He did say that perhaps the easiest thing would be to include elected officials in the personnel definition of employees. That way, he said, restrictions would be fair. He said he had drafted a letter to the County Counsel about this.
Supervisor Byng Hunt said that after a good discussion by the Board, "It became clear that the ordinance was very vague and unworkable in a practical sense." Hunt said he also did not want to "inhibit the political activities of otherwise honest and ethical candidates for office who are already overburdened with meeting existing regulations." He said he wants to encourage, not discourage, qualified citizens to run for office. Said Hunt, "This ordinance seemed too unworkable with too much subjective discretion given to the District Attorney to enforce." Hunt did say he supports in principle the concept of including elected officials in the definition of employee.
Supervisor Tim Alpers said he is not ready to redefine employees to include elected officials. He called the proposed ordinance "confusing. For now," he said, "it's best not to burn staff time on this." Alpers said the proposed ordinance was complex with too much room for interpretation. He said he would be happy to revisit the issue and hopes that the judgment of elected officials campaigning is solid. If problems arise, said Alpers, the County will deal with it.