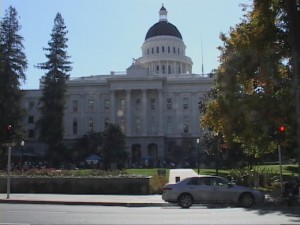 The organization CalTrout says that Senate Bill 1148 will not change the funding of California fish hatcheries and will provide $1 million for capital improvements to hatcheries while also protecting wild trout. Former Mono Senator Dave Cogdill says SB 1148 will "result in an ever-diminishing experience for anglers while requiring them to pay ever-increasing license fees." Cogdill says the bill will place wild trout over hatchery programs.
Negotiations over SB 1148 have resulted in some changes, but the view of the impacts of the bill remain widely polarized. CalTrout Conservation Director Curtis Knight reports that negotiations over the past five weeks have left both sides not getting all they wanted. He claims that the new bill improves on the original fisheries legislation, Assembly Bill 7, which then Senator Cogdill had attained.
Knight sent Sierra Wave Media CalTrout's legislative update on SB 1148 (see position at www.caltrout.org) which says hatcheries will not lose money and that Fish and Game can look to private hatcheries to meet production coals. CalTrout claims that stocking in put-and-take fisheries like the Eastern Sierra will be improved under SB 1148 and that the bill maintains the target goal of 2.75 pounds of stocked fish per licensed angler. They do say that native trout will be protected with establishment of a special program and the hiring of seven new Heritage and Wild Trout positions within Fish and Game.
In a letter written to the California Senate last Thursday, former Senator Cogdill says that "SB 1148 currently undermines the intent and purpose of AB 7 with regard to the State's management of trout, both hatchery and wild." Cogdill said that the bill would "still re-prioritize the mission at Fish and Game such that wild and native trout programs take priority over hatchery operations."
Cogdill says the bill would also expand bureaucracy with little legislative oversight. He points to AB 7 as intended to require Fish and Game to focus on its hatcheries. Cogdill said that Fish and Game made it clear that they did not want to implement AB 7 and in seven years have not met the bill's goals. Cogdill alleges that Fish and Game has not only failed to meet the mandates but has also "syphoned off an exorbitant 30% of the hatchery funds and unlawfully redirected $1.8 million of license fees for commercial fishing programs."
Cogdill firmly contends that AB 7 should be given a proper chance before changing the system that he says until the last ten years or so has created an exceptional sports fishing program for anglers and local economies.
CalTrout says they hope the bill will pass the legislature this week and go to the Governor's desk by Friday.