On Wednesday, December 23rd, starting at 5:30pm, Santa Claus will be visiting the Bishop area during "Operation Santa."
He won't be in his sleigh or with his reindeer. Instead, Bishop Police Officers, Inyo County Sheriff's Deputies and Bishop Fire Fighters will escort Santa through the streets of Bishop for a quick tour of our communities and spread holiday cheer before he returns to the North Pole!
The 2020 Operation Santa Map has been finalized. If we aren't visiting your neighborhood this season feel free to stop along the route to wave hello as Santa makes his way through the area and back to the North Pole!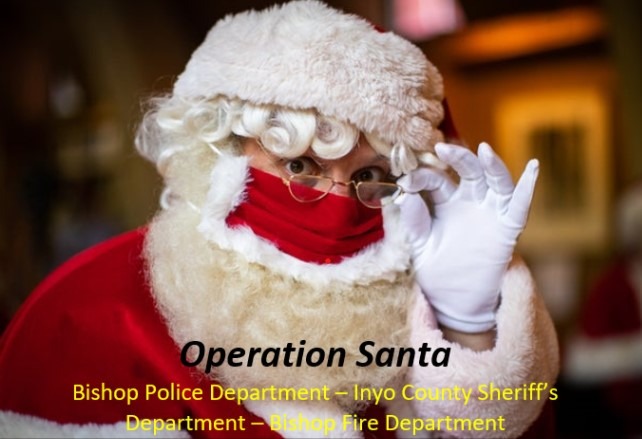 Operation Santa Map Streets include: Line Street, Main Street. South Street, N. Third Street, Hanby Avenue, Spruce Street, Sierra Street, Home Street, W. Pine Street, See Vee Lane Bar L Lane, Saniger Lane, S. Valley View Drive, N. Barlow Lane, Pioneer Lane, Edward Street, Clark Street, Short Street, Willow Street, E. Pine Street, MacIver Street, Coats Street, E. Elm Street, N. Fowler Street, N. Sierra Highway, Lazy A Drive, Choctaw Drive, Shoshone Drive, Diaz Lane, Lagoon Street S. Third Street, First Street, May Street, E. Yaney Street, N. Main Street, W. Yaney Street, Grove Street, W. Line Street, Rocking W, Bar M Lane, Juniper Street, Cheyenne Drive, and N. Tu Su Lane.
Merry Christmas Everyone! Enjoy the holiday and Stay Safe and Stay Well!