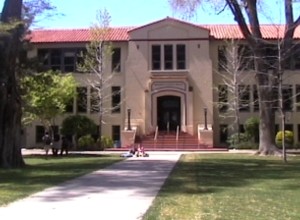 When school starts up this fall, high school students in Inyo, Mono, Kern, Tulare, Fresno, and San Bernardino counties will have the option to take classes online through the newly created Mount Whitney Virtual Academy.
This charter school was authorized through the Bishop School District and uses public funds to offer free online education to local students and students from the surrounding counties.
According to a press release, Bishop Schools Superintendent Barry Simpson says, There are literally thousands of students outside of our school district whose needs are not being met by the large urban school districts in southern and central California. He adds that, Many are at risk of not finishing high school and MWVA is a great opportunity for them to earn their high school diploma.
Simpson also reports that the online school will generate income for the Bishop School District.
According to the Mount Whitney Virtual Academy website, the school is set to offer courses in math, science, language arts, social studies, and electives designed to meet California standards.
The parent company, American Virtual Academy, lists credit recovery for students falling behind as one of the goals of this online education. Other uses include summer school, and other special needs.
This Mount Whitney Virtual Academy is set to start classes on August 23. More information is available at the website mt.whitneyvirtualacademy.com