If you haven't received the latest ICARE newsletter in your snail mail, you're cordially invited to read it on-line. We think you'll be amazed at the great news for pets of the Eastern Sierra! Please visit:
http://icareforpets.org/ICARE%20WINTER%202012-%20WEB.pdf
BUNNY is a one-year old purebred German Shorthaired Pointer (GSP). Her owners could no longer keep her, but say she is a very sweet girl who will melt your heart. GSP's are active dogs and need daily exercise to keep them at their happiest.
MILLIE is living doll! She's part Lab, part Husky, part ?. All we know is she is a terrific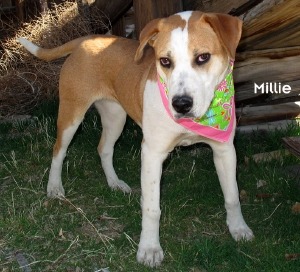 family dog with a sunny disposition and beautiful Maybelline eyes. Oh yeah, and she walks like a champ on her leash.
The Inyo County Animal Shelter has an amazing selection of adorable cats and lovable dogs. Please adopt one today. Visit in person on County Road in Big Pine or on-line at
www.ICAREforPets.org
. HOURS: Tuesday thru Friday, 10 am to 3 pm, Saturday and Sunday 11 am to 4 pm (closed Mondays). Phone 760-938-2715.