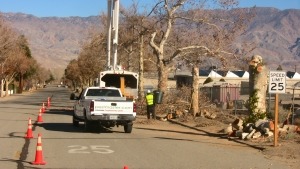 At the end of November, Independence residents were dismayed to see a crew cutting down trees in a long line of Sycamores on the way to Onion Valley trailhead. Nina Weisman found out that the Los Angeles Department of Water and Power hired Pestmaster Services to take down eight trees, but the sycamores are in an Inyo County right of way. The crews stopped work. Two trees were already cut down to six-foot stubs. We now have more information from DWP.
Chris Plakos, LADWP information man said that earlier in the fall LADWP staff "responded to a call from a concerned citizen that some trees in Independence adjacent to the LADWP construction yard were not looking good." Plakos said LADWP biologists did an assessment and suspected that the trees had a disease. He said the staff had an outside arborist evaluate the trees. Plakos said the arborist concluded the trees were diseased and recommended eight of them be removed and the rest trimmed to "allow for more air circulation and sunlight."
Inyo Deputy Public Works Director Jim Tatum had said an arborist, apparently from Pestmaster Services drew these conclusions and reported that the trees are diseased with anthracnose, a type of leaf blight. Tatum also said there is a county process to go through before tree removal in a county right of way.
Chris Plakos said when concerns were expressed, the tree cutters halted. He said, "LADWP staff is now working with Inyo County on how to proceed."
Southern Inyo residents are particularly sensitive about tree removal since their towns and surrounding areas have lost untold numbers of trees through LADWP groundwater pumping.
Another concern about the sycamores in Independence is that they have not been watered in some time although a ditch system has been in existence around the 21 trees for many years. Mr. Tatum said he hopes this issue is addressed publicly too. DWP will apparently need to go before the Board of Supervisors on this issue.