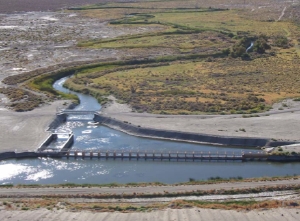 (press release – Inyo Water Dept.) A public meeting to discuss the current findings of environmental conditions present within the Lower Owens River Project, and adaptive management recommendations made in response to those findings, will be held at 8:00 AM, on Monday January 13, at LADWP's Bishop Office (300 Mandich St., 93514).
Those attending will hear the results of ecological studies and surveys undertaken in 2012- 13, and gain a better understanding of the project's overall progress since it was implemented in December 2006. In addition, the scientific team will present and discuss adaptive management recommendations made by the MOU Consultant in response to observations and studies.
2013 was the sixth year of monitoring for the LORP, and work included:
• Seasonal Habitat Flow (SHF), to encourage riparian development and improve water quality
Rapid Assessment Survey, to detect management problems and evaluate the effects of the SHF
Hydrologic monitoring, to measure flows and flooded areas in the LORP, and look at the effect of flows on tule growth
Land management summary, to assess livestock management, monitor rare plant populations, and stream Delside monitoring to investigate woody species recruitment and persistence
Fish census, to provide information about the health of the fishery in the LORP Salt cedar and invasive weed monitoring and treatment, looking at the spread and control of undesirable species
Delta Habitat Area, to look for species indicative of attaining project goals, and wetland habitat assessment
Monitoring data is used to analyze conditions, identify problems, and in response to these finding the MOU Consultant makes Adaptive Management Recommendations. This year these recommendations include changes in river flows, burning of wetlands to prepare for flooding, conducting certain monitoring studies, controlling noxious species, and convening a LORP summit discussion.
The public is invited to provide comments and contribute to the conversation. Formal comments on the Annual Report will be accepted until the close of business on January 28, 2014. Comments can be sent to Larry Freilich, PO Box 337, Independence, CA 93526; or