Mammoth Fire Department and CalFire teamed up to try to make Mammoth Lakes safer recently.
Homes on the edge of the forest or wildlands stand in greater jeopardy than most neighborhoods. The entire community of Mammoth Lakes sits in the forest, and Fire Chief Brent Harper has worked hard this past summer to make things safer. In a press release from the Town of mammoth, Fire Chief Harper is quoted as saying "Old Mammoth is the worst wildland interface area I have ever seen, and over the next ten years the USFS, County and Town will cooperatively spend $7 million to clean up this area."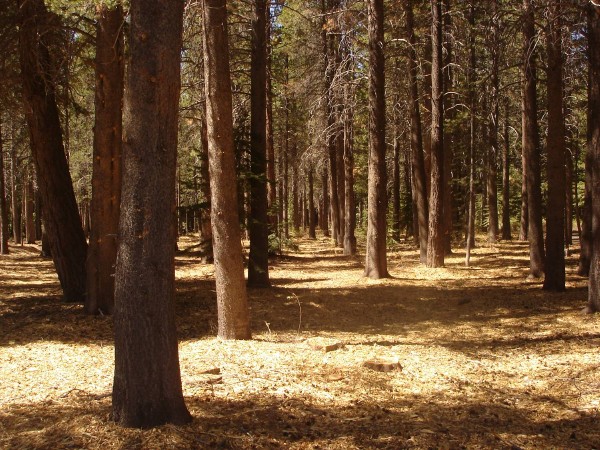 Mammoth Fire Captain Robert Williams is in charge of fuels reduction. He and a crew from CalFire are finishing up a Sherwin St. Project. The Town-owned 10 to 12 acre parcel there was transformed from a dark, cluttered forest (shown in this photo) to an open, thriving ecosystem with less fire danger.
Next summer, crews will concentrate on the more than 100 acres above the Valentine Reserve, Mill City and Panorama Dome area to create a defensible fire break for the Town of Mammoth Lakes.
The Town quotes CalFire as saying that our forests today often have "unprecedented levels of flammable materials." Fuels that helped spark the southern California wildfires that burned over 500,000 acres and 2,500 homes.
Mammoth Fire offers this drawing to show defensible spaces around your homes. Zone 1, up to 10 feet around the home is where all flammable material should be cleared. Zone 2, 10 and 30 feet from the home, should be cleared of all native fuels and tree limbs above the roof line. Zone 3, up to 100 feet from the home, should eliminate any clear path for the fire to the house.