The major project, Old Mammoth Place, grew into a political football as the Mammoth Town Council race shaped up. The appeal of the project drew fire from at least three candidates. In spite of strong views to the contrary, the Mammoth Town Council voted to allow the Old Mammoth Place project to move forward.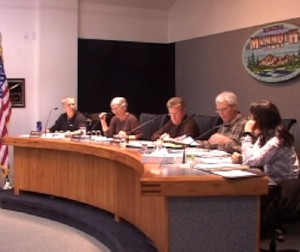 Council candidate Kirk Stapp and others had appealed the project with the contention that the community benefits and incentive zoning policy is out of step with the town general plan. This CBIZ policy allowed the developer to build extra units and not have to pay developer fees on those units in exchange for amenities that are designed to benefit the community such as conference space, out door plazas, and underground parking.
The Planning Commission signed off on the project in March after what was said by some to be over fifty public meetings on Old Mammoth Place. The current plan for the site on Old Mammoth Road is to allow the developer to build a project that has 488 lodging rooms, eight units of on-site workforce housing, outdoor public events areas, retail space, restaurants, underground parking and a spa.
Discussions centered on the issues surrounding the CBIZ policy, though issues such as the availability of water for the large project were also brought up by members of the public. At one point councilmember Wendy Sugimura agreed that some of the town policies needed work, but in the end the council upheld the Planning Commission's approval of the Project. Jo Bacon had to recuse herself from the discussion. The vote was 3-1, with Skip Harvey in the dissent.