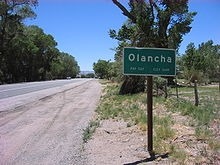 In response to Caltrans' plans for four lanes through Olancha, the Inyo Supervisors favored widening Highway 395 through the towns, a number of residents did too.  However, Caltrans officials picked a bypass around the small community.  Disgruntled citizens showed up during public comment at the Inyo Supervisors meeting this week.
Olancha residents told the Board that they believed the bypass alternative "was not on the table or open to public comment."  They also complained that Caltrans did not have answers on access to homes under the new plan.  Susan Patton of Olancha said, "We feel that once again a government agency is doing what they want to do whether the people like it or not."  Patton told the Board that Caltrans said they could not yet answer questions about the bypass alternative.  "They spent $5 million studying these alternatives," said Patton.  "They should have more answers."
Jeffrey Bowle said the bypass would cost $30 or $40 million more.  Scott Palomar, an Olancha-Cartago property owner, pointed to the Inyo General Plan policy that bypasses should be avoided. All of the citizens wanted support from the supervisors.  Board Chair Susan Cash said, "This Board makes no decisions on this."
Following the meeting, we talked to Caltrans project manager on the Olancha four-lane, Cedric Zemitis. He said that "There was definitely public input" on the bypass alternative which also includes transforming part of 395 into 190 and part of it into a local road.  Zemitis said that Option 3.5, as it's called, was circulated publicly for comment and went to the Local Transportation Commission and Board of Supervisors.  Zemitis said Caltrans District 9 Director Tom Hallenbeck "looked through the whole record and chose the preferred alternative." That alternative is a four-lane bypass to the west of Olancha and into Cartago.
Zemitis said safety is the main concern along with cost, public concerns, regional and inter-regional issues and natural and physical environment.  On a point system, alternative 3 was the highest scoring.  Hallenbeck combined 3 and 4.  "We realize not everyone is happy," said Zemitis, "but it's the best combination."