Press releases
Mammoth Lakes Fire Department
Spring Season Melting Conditions
As the long winter ends, there are several conditions that visitors and locals in the Sierras need to be aware of. The creeks are rising fast, backcountry trails are covered with snow, and weak ice conditions prevail on most snow-covered lakes. Extreme caution is necessary to make your time in the Sierras enjoyable and without incident.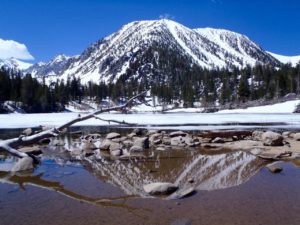 The creeks in the Eastern Sierras are beginning to rise because of the warmer temperatures and the melting snow pack. The creeks are going to fill to their banks, the temperature of the water will be cold, and the swiftness of the water will make for very dangerous conditions. Be watchful of children, pets, and the closeness of anyone in your party to the stream channel. Respect the velocity and strength of the streams, recognize that being in the water has the potential of being life threatening, enjoy the beauty from a distance, and stay safe.
Trails throughout the Sierras are going to take much longer to become snow free this year. What may start out as a dry trail, may become snow-covered and impossible to follow and cause you to get disoriented. Be careful of voids below the snow that you may fall through, slick surface conditions that may cause you to slide into unwanted areas or into rocks resting just below the snow surface, and a range of hiking conditions from icy conditions in the morning and slushy conditions in the afternoon. Be extra careful hiking this time of the year.
Snow covered lakes pose a big problem during the spring as the lake appears snow-covered, but the ice below may not be structurally sound. Many high elevation lakes still have snow covering them and the lakes will become more dangerous as the warmer temperatures increase during the next several weeks. Ice conditions are questionable at best and use extreme caution in and around all ice-covered water bodies.
If you would like more information on this or any other fire safety related matter, please feel free to contact the Mammoth Lakes Fire Department at (760) 934-2300.
Inyo County Sheriff's Office
Historic snowpack in the Sierra has contributed to heavy spring runoff throughout the Owens Valley. Waterways are running full and fast. Water may look calm on the surface but heavy currents as well as debris are a significant safety risk. Local officials are recommending the following safety tips for residents and visitors:
Calmer waterways are recommended for spring and summer recreation such as Diaz Lake, Klondike Lake, and Millpond. Officials are strongly urging residents and visitors against Owens River floating.
ALWAYS wear properly fitting personal flotation for all water activities.
River and stream banks can be compromised by extreme erosion – keep a safe distance from these areas.
Please keep children close by, and dogs on leashes near moving water.
Stay on established trails or developed areas when you are near waterways.
Camping safety reminder: After a full day of intense heat and high temperatures, peak flow will occur pre-dawn.  When determining where to pitch your tent, be sure you choose higher ground away from any source of running water.
Waterway safety is your responsibility, but with some practical preparedness you can enjoy a great season of safe outdoor recreation near local waterways.
US Forest Service
Memorial Day is viewed as the start of summer and visitors can have a beautiful visit to the Eastern Sierra this weekend. The wildflowers have been spectacular in the Owens Valley, Inyo and White Mountains and the Sierra Nevada capped with a full snowpack is a stunning sight.
However, visitors to the forest should be still be prepared for winter conditions throughout the high country of the Inyo National Forest after a substantial winter season.
Many roads, including Tioga Pass, Reds Meadow Valley Road, and the Lakes Basin Road remain closed and are under substantial snow. Snow levels are delaying the opening of some campgrounds as well. Visit the recreation conditions report for the most current information.
Recreationists should plan for snow at 8,000-9,000 feet in elevation (depending on if the location is sun-exposed or not and also variable from the north to the south of the forest). Hikers should have winter navigation skills, be prepared for avalanche conditions (consult the Eastern Sierra Avalanche Center), and may need skis or snowshoes, ice ax and crampons for travel. High elevation lakes are starting to melt. Do not traverse lake ice—it is extremely risky.
A warm weekend is in the forecast and that brings flooding concerns as well. Hikers and anglers should understand that water crossings will be deep, swift, cold, and dangerous. Streams and creeks that posed little danger during drought conditions can now be running full and fast. Water may look calm on the surface but heavy currents as well as debris can be a significant risk. Avoid lingering near steep banks and slippery rocks. Several drownings in California this year have occurred when the person slipped and fell near swift water. Keep children and pets away from the water's edge.
Trails and off highway vehicle (OHV) roads may have trees down over them or have other forms of winter storm damage so travel with care.
The Ancient Bristlecone Pine Forest Visitor Center is scheduled to open for the Memorial Day Weekend.
A magnificent spring and summer are underway in the Eastern Sierra and the extra snow and water are welcome in California. With a little planning, visitors can have a safe and enjoyable experience.