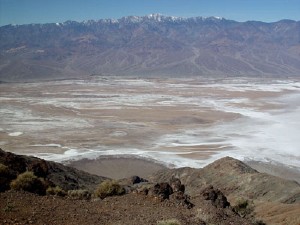 Department of Water and Power Water Operations Director Martin Adams tried to put a good spin on a plan to cut dust control and water use on Owens Lake as a prerequisite to a Master Plan for habitat protection at the dry lake bed. The Inyo Supervisors did make it clear that dust control is out of their hands and that the Owens Lake Master Plan committee should be where DWP needs to work on its ideas. Today, more comments from that meeting Tuesday.
Adams made his point that water for dust control means "no extra water to spread on the valley floor and a strain on water to LA." He said DWP believes they can pump groundwater at the dry lake to control dust "without surface impacts." Adams' plan tries to put pressure on the Air Pollution Control Board, which LADWP has sued, to pull back on dust control requirements. APCD Director Ted Schade has repeatedly pointed out that it's DWP's choice to use water instead of gravel or other means.
Phillip Annaya  of Bishop said DWP's plan "sounds like a eulogy for the burial of the Master Plan process." Annaya said DWP should not circumvent the Master Plan group. He also questioned DWP's wish to pump groundwater at the dry lake for dust control. Annaya said, "Look at the mismanagement and problems we have in the Owens Valley – Black Rock, Laws, and the Bishop Cone – these issues have to be addressed responsibly before there is another wellfield." Annaya said he thinks it's all about water down the aqueduct.
For several years, LADWP officials have told ranchers and others that they could not give them so much water as in the past because of water use on the dry lake bed. For decades, DWP has used ranch leases to pressure ranchers into supporting their views.
Rancher Scott Kemp complained about "wasted water" on the dry lake delta and in the Lower Owens River which he called a "marsh of 500 acres of tules." Kemp said DWP is "watching stock water all over the Valley." He called for a compromise on dust control.
So did Rancher Tom Noland who said there should be no more dust control on the dry lake bed. George Milovich said, "Sacrificing the Valley for the dry lake makes no sense." Rancher Mark Lacey said, "Stock water is being affected by the lake."
What the ranchers did not say, Nancy Masters did. She said, "Why is stock water being affected. The Long Term Water Agreement," she said, "guarantees the same irrigation as the 1981-82 runoff year. Water is available. It's in the aqueduct. We need to make sure the ranching community receives water pursuant to the Water Agreement." Masters also said if water does not go to the dry lake, there is no guarantee the ranchers will get it.
Nina Weissman said, "I really feel that LADWP is using their unwillingness to finish dust control as the reason for no water on the fields." Weissman cautioned the Supervisors to look deeper. "It's a very serious issue," she said.
Supervisor Jeff Griffiths said he sees collaborative planning as the key. He said, "We're at the point to move past an adversarial relationship." He said he did not see the Lower Owens River as a best use of water but said that an Owens Lake Master Plan should move forward quickly but "get there with buy-offs from stakeholders in the Owens Lake Master Plan committee." He did point out that the Inyo Supervisors have no control over pollution issues at the dry lake.
Supervisor Rick Pucci said he wanted to see trust on both sides. Said Pucci, "We need commonality. I don't really see that. We need to preserve our area and the uses we have. The Owens Lake," he said, "has to be a compromise. That's critical."
Supervisor Mark Tillemans questioned groundwater pumping at the dry lake and said the Water Agreement governs that. He also DWP needed to consider the economic side of things and how they have hurt the growth of the Owens Valley.
Supervisor Matt Kingsley pointed to the Master Plan process and the need to deal with it. He said DWP will have to deal with the Air Pollution Control District and State Lands Commission on dust issues.
Adams connected less water for ranchers to dry lake dust control, and when it came to a guarantee that water saved at the lake would remain in the Owens Valley Adams was vague. He said, "We will see how to make more water available in the Owens Valley." Supervisor Linda Arcularius pressed him when she said, "We need a level of certainty regarding ranch water. This would contribute to the level of trust Mr. Pucci spoke so eloquently about.""