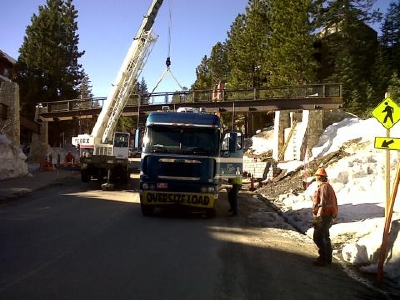 The bridge has been under construction for several weeks.
Mammoth Mountain Ski Area will officially open the new Ski Back Trail pedestrian bridge on Friday. The bridge connects the Ski Back Trail to the Village at Mammoth.
Construction of the bridge has unfolded over the last few weeks. CEO Rusty Gregory said that the completion of the bridge represents a big step toward the "feet first" vision of a more pedestrian community set forth in the General Plan.
Gregory added that the completion of the bridge after "20 years of discussion is a great testament to persistence and a collaborative planning effort with the community and Town planning staff." Gregory also thanked the Forest Service.
The Ski Back Trail itself opened at the end of 2009 with a trial through the woods to get from Mammoth Mountain back down to the Village. The trail was originally proposed in the 1980s with design of the trail underway in 1994.
Mammoth Mountain planned a grand opening ceremony and ribbon cutting Friday at 11 am with CEO Gregory.