Complaints about dumping garbage and sewage near Tecopa led the Inyo Sheriff's Department to organize a formal enforcement effort. Their work netted several citations and two arrests.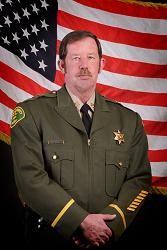 Inyo Sheriff Bill Lutze explained that A coordinated response was mobilized after the Sheriffs Department received numerous complaints from residents regarding the dumping of sewage, waste water, and trash along Old Spanish Trail Highway. He added that the Old Spanish Trail Highway is used heavily by campers and off highway enthusiasts traveling from Dumont Dunes to Las Vegas, Nevada, in the winter months.
Highway Patrol Officers and the Inyo Narcotics Enforcement Team also helped out with the operations that took place on January 3rd and February 15th.
Sheriff officials say that over the course of the two operations, officers issued several citations for dumping waste holding tanks, out of class drivers, misuse of license plates, and children riding in trailers. Other vehicles with registration violations were impounded in Pahrump, Nevada.
There were also two arrests during these operations. Sheriff Officials said that officers witnessed Richard Laatz dump sewage along the highway. A search of the vehicle turned up a baggie of illegal psilocybin mushrooms, officers report. The man was arrested.
On February 15th, officers report the arrest of Steaven Brabandt for felony alteration of vehicle registration, carrying a concealed weapon, and carrying a loaded firearm.
Sheriff Lutze says that that the actions of the travelers in this area will be monitored, and another coordinated response will be mobilized if necessary,