Still scolding constituents for not objecting earlier and for objecting at all, the Inyo Supervisors ignored a Civic Club and citizen request and voted unanimously to cut down two 70 year old Deodar Cedar trees in the public right of way in Independence.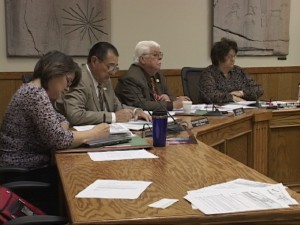 More than two years ago, a limb fell out of one of the trees and onto the fence of the nearby property owner. He reportedly asked that both trees come down. Inyo County did no assessment of the trees to determine their real condition. Then the County waited around for a couple of years. When crews finally got around to the cutting job, citizens were upset to hear the news.
Independence lost dozens of trees in the big fire last summer and will lose 100 more in the Caltrans highway widening. Inyo Public Works said a greater than normal number of trees have also come down in the County Seat.
The Independence Civic Club asked for time while they brought an arborist to look at the beautiful cedars. Other citizens backed that plea. The Supervisors criticized citizens for not complaining sooner and backed the elderly property owner who called the trees widowmakers.
The County's Tree Removal Policy gives the Board of Supervisors authority to authorize tree removal for no specific reason.
In Southern Inyo, where groundwater pumping has taken out countless trees, citizens are sensitive to the loss and in search of solid reasons for any tree removal. Supervisors Jim Bilyeu and Beverly Brown seemed mostly annoyed.