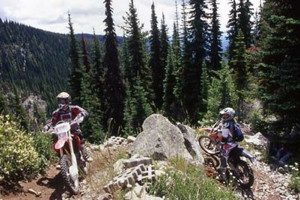 Dear Sierra Wave:
There are a lot of citizens in Inyo County concerned about the increase of off-road motorcycle activity here.
We're not talking about those folks enjoying the vast array of dirt roads in the desert. I have friends who ride and they are respectful, courteous and responsible drivers.
I am speaking of the younger ones who have taken to putting in their own single tracks across the desert, creating ruts, flattening bushes, and, now, in spring, running over precious wildflower seedlings.
And, then, there are the ones who have taken to riding the desert hiking trails, where they absolutely don't belong.
Here in Wilkerson, they're thrashing the trail that leads out of Rawson Creek into Coyote. These trails are not for motorized vehicles.
When the off-road ATV craze began in Inyo County in earnest a number of years ago, I had some close calls with my dog, who almost got hit while we were out hiking the trails. I'd never seen motorcycles on these trails before and it was scary for me and my dog.
Since any one area can be a combination of BLM, Forest Service and DWP, it's hard to regulate all this disruptive activity.
And, when BLM and Forest Service do put signs up, they're sometimes pulled up as quickly as they're put in. It's very discouraging.
Yes, this land is here for all to use. That is true. However, when I hike through the wild spaces, I don't uproot or run over plants, create trenches or disrupt the solitude with loud engine noises and exhaust fumes.
We have such an abundance of dirt roads here that it's so unnecessary for these kids to be thrashing through the wild places.
I know it's more fun and exciting than sticking to the dirt roads for these young kids, but we don't live in a vacuum! They need to learn that.
We are all on this spinning globe together; humans, animals, plants, rocks, oceans, etc., and we need to be responsible to the needs of all, not just ourselves.
It starts with the parents, teaching responsibility to and love for the earth and then it moves out from there.
All you parents with motorcycle kids, please, please, please teach them to repsect others and the earth and stick to the roads!
We all have to live here in the beautiful Eastern Sierra together!
Thank you.
Sincerely,
Marianne Vaughn
Bishop
P.S. And if any of you riders out there are adults thrashing the desert, shame on you. You should know better.