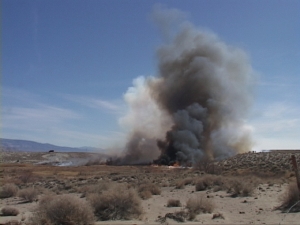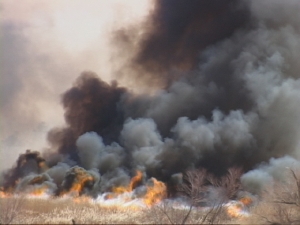 Sunday morning, fire broke out somewhere near the Lone Pine dump and spread north and south, whipped by extremely high winds.  Lone Pine Fire Chief Leroy Kritz said that eight agencies responded.  At 6pm Sunday, the fire had calmed way down and crews were being released.
Fire Chief Kritz said he and others are not sure exactly how the fire started.  He did say it apparently started "by the dump."  Chief Kritz said the blazes ran from Highway 136 in the south to Depot or Narrow Gauge Road in the north.  Much of the fire burned in the Lower Owens River bed where a lot of fuels had accumulated.  The fire burned quickly through a lot of brush east of the community of Lone Pine.
Chief Kritz said that responding to the fire Sunday morning and throughout the day were volunteer fire departments from Lone Pine, Olancha, Independence, Big Pine, Bishop, and Wheeler-Crest.  Also on the fire were Cal Fire crews and the Forest Service.  The fast moving nature of the fire and the high wind created major concern for an out of control blaze, but around 5pm or so the fire started to lay down and crews were released.
Bishop Fire Chief Ray Seguine said that volunteers from Independence, Big Pine and others took a strong stand at Highway 136 and the fire did not jump the highway as feared.
Chief Kritz said that Cal Fire is officially in charge of this incident and planned to send five engines and five hand crews from Southern California to stay on this Lone Pine fire.
According to Cal Fire, the Inyo Sheriff was also on scene as was BLM and LADWP. Cal Fire also reported that the fire burned on both sides of the river and threatened power lines in the area. They estimated that as of Sunday morning 75 acres had burned and that 80 personnel were on the fire.