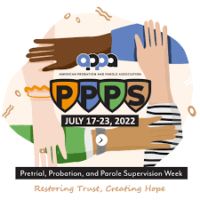 Ten Reasons Why We Should Observe Probation Services Week
Restoring Trust and Creating Hope!
July 17-23, 2022
Probation Services Week is a time to recognize and celebrate the dedicated and caring individuals in Inyo County who work tirelessly to make our neighborhoods safer and more vibrant places to live.   These professionals are in our communities each and every day to assist juvenile and adult offenders in becoming better citizens and live productive lives.
Working together makes for stronger bonds between colleagues, community partners, and with those under supervision.
Here are 10 ways Inyo County Probation is valuable to our communities:
10. Inyo County Probation (ICPD) is committed to promoting services and programs that meet the needs and interests of crime victims and the community.
9. Probation professionals promote an integrated, comprehensive approach to dealing with the pervasive problem of substance abuse.
8. ICPD provides services and programs that provide opportunities for offenders to become law-abiding citizens.
7. Inyo County Probation Officers offer choices and enforce consequences.
6. Inyo County Probation Officers are highly trained professionals who have the ability to promote prevention, intervention and advocacy in the interest of public safety through the use of best practices.
5. ICPD promotes community protection through proactive, problem-solving work practices plus interventions aimed at changing criminal and/or delinquent behavior.
4. Probation is the linchpin of the criminal and juvenile justice systems in Inyo County and could not operate without the hard work and dedication these professionals exhibit each day by providing support mechanisms to assist the people they supervise in becoming law abiding citizens, good neighbors, and contributors to our society.
3. ICPD provides core services such as investigations, victim advocacy, community supervision, immediate response to violations and treatment services; all which provide optimum public protection.
2. Probation professionals work 24/7 to help make Inyo County safe.
1. Inyo County Probation professionals supervise over 600 adults and juveniles in our communities.
Imagine what it would be like without them!