Coss Connolly
1933-2019
Coss Connolly passed away peacefully in Bishop, California in the early morning hours of Sunday, October 6, 2019. She was 85.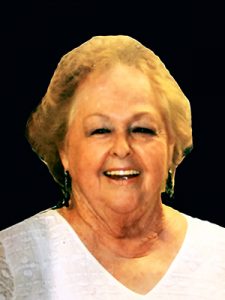 Coss was born in Whittier, California on October 27, 1933 to Calvin James Culp and Laura Belle Matthews. Coss was christened "Vivian Irene Culp" but an older sister began calling her "Coss-Coss," and the name stuck.
  Coss grew up in Buena Park and was attending Fullerton High School when she met Smiley Connolly. The pair were inseparable, and they were married in 1950. Son Mike was born in 1951, followed by Robert in 1954, and the family began to build a life in Buena Park.  
 In 1962, plentiful work and clear mountain air lured the family to the Owens Valley for a time. But Coss missed her relatives back in Orange County, so she convinced Smiley to move back. Then a few months later Coss admitted to Smiley (for perhaps the first and only time) that she had made a mistake. She wanted to move back to Bishop to raise their boys, and so they did. Smiley started Bishop Plumbing in 1963 and they never looked back
 After retirement, Coss and Smiley took vacations and traveled the country together for thirty years.  Coss's favorite spots were in the forests and rugged coasts of Oregon. In the meantime, Smiley was elected to the Bishop city council, where he served nearly twenty years.  Twice during that stretch, Smiley was Mayor and Coss was the First Lady of Bishop.
 For Coss, life revolved around her family. She was loyal, defensive when necessary, and always attentive. She was a presence at every stage in her grandchildren's lives—first with a washcloth from a baggie in her purse to wipe their little mouths, then as the one who remembered every birthday and bought the perfect gift, and later as the one who supported them through countless life events and crises with worldly wisdom and honest—even blunt—advice. She helped shaped their lives.  
 Coss loved everyone she ever met, and she developed many close friendships over the years. All were treated like family. She constantly thought of people as they went through difficulties; if she couldn't directly lend a helping hand, she would go to church to pray and light a candle for them.  
 But the true center of her life was her true love, Smiley. Her love for him was legendary, and their 69-year relationship has served as a model for all who know them.  
In the weeks prior to her passing, Coss was visited by a constant stream of family and friends. Despite difficulties with her health and her terminal cancer diagnosis, she never failed to show her famous resolve and wit. She loved and doted on her family until the end. Even has she slipped away from them and into the hands of God, she effused wisdom and resilience and love from her hospital bed. She was truly one of a kind, and she will be deeply missed.
 Coss is survived by the love of her life and her husband of 69 years, Martin L. "Smiley" Connolly, of Bishop; son Mike Connolly and his wife, Debbe, of Bishop; son Robert Connolly and his wife Cheryl, of Bishop, and her son Jay Massey; grandson Ryan Connolly and his wife, Phan, of Poway; grandson Chris Connolly of Bishop; granddaughter Addie Miears and her husband, Rich, of Bishop; granddaughter Rachel Connolly and former daughter-in-law Lori Graves, both of Redding; grandson Mick Connolly and his wife, Kayla, of Reno; and she was "Nana" to 15 great-grandchildren. There are many nieces, nephews, cousins, and other family and friends, too numerous to name here. We all love you, Coss, forever.
Funeral Mass will be held at 11 AM on Saturday, October 19, 2019 at Our Lady of Perpetual Help Catholic Church, 849 Home St, Bishop, CA 93514.