Harold Wayne Butterbredt, Sr. "Sooky" passed away unexpectedly on February 16, 2015 at the age of 48. Harold was born on November 26, 1966 in Bakersfield, CA.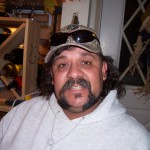 After spending part of his childhood in Nevada and Coleville, CA, Harold moved to Bishop, CA in the late 1970s where he attended elementary and high school. Harold was the beloved eldest son of his late mother Juanita Jean Butterbredt Kinney. He was the apple of his mother's eye and also the big brother and protector to his siblings.
After high school, Harold met Patricia Harris and they were married on February 16, 1989. Harold became the dad to Patty's two children Nakia and Charles Hanks. The four of them loved to travel and they made their home where their work took them including Bishop, Topaz, Coleville, Big Pine, and Rovanna.
Harold worked in the construction field, joined the union, and worked on highway jobs whenever he could. He worked on remodeling houses. He poured concrete in Nevada. He worked as a used car salesman. Harold shoveled snow and cleaned condominiums in Mammoth in the winter time. He cut and sold firewood. Harold was also an auto mechanic. He did whatever work was available at the time.
After several years of marriage, Harold and Patty divorced but they always remained good friends and the kids were and still are part of the family.
Harold later met Adrienne Barlow and they had two sons Waylon Wayne Little Bear Butterbredt and Harold Wayne Quinana Butterbredt Jr. Harold loved his sons dearly and was always proud of them. He was proud to be Native American and taught his sons to be proud of their heritage. Although Harold and Adrienne never married, they cared deeply for each other.
While his sons were yet young, Harold and Brandie Gockley were married in 1999. The two of them were inseparable for many years and where one was the other was right there.
Harold loved life. He loved spending time with his family teasing and playing jokes on anyone he could. He was always making everyone laugh. Harold loved to travel and had big dreams. He enjoyed going out with his family getting wood. He loved working on cars. He loved horses, cowboy movies, and John Wayne. Harold would always help those in need and had a heart of gold.
Harold is preceded in death by his mother Juanita Jean Butterbredt Kinney, his step father Morgan Wade Kinney, his grandparents, and aunts and uncles. Harold is survived by his children Waylon Wayne Little Bear Butterbredt, Harold Wayne Quinana Butterbredt Jr., Nakia Hanks, and Charles Hanks; sisters Janet Warsinski, Teri Red Owl and brother-in-law Larry Red Owl, Jr.; brothers Larry Cawelti, Jr. and sister-in-law Shannon Cawelti, Jonathan Cawelti and sister-in-law Jackie Cawelti; nieces Nakona Cawelti, Loni Romo, Markie Wilder, Isabella Red Owl, and Alexis Red Owl; nephews Joseph Rock, Cody Cawelti, Chance Cawelti, Kyle Davis, Clifford Wilder, Chase Cawelti, Noah Williams, and Joseph Red Owl; numerous cousins, aunts and uncles.
Harold's smile, laughter, and generosity will be missed. The family takes comfort in knowing that he is reunited with his mom and loved ones in Heaven and abides with his Lord and Savior Jesus Christ.
Funeral services will be held at the House of Mercy Pentecostal Church on South Paha Lane in Bishop on Saturday, February 28, 2015 at 11:00 am. Reverend Stanley T. Summers will officiate. Interment will be at Sunland Indian Cemetery. A potluck luncheon will take place after burial. A traditional Cry Dance will be held on Friday, February 27th at 5:00 pm at 515 South Paha Lane, Bishop.
###
Wenda Loreen Holland
June 28, 1935 – February 14, 2015
Wenda Loreen Holland passed away at age 79, on Feb. 14, lovingly surrounded by family. She was born June 28, 1935 in Hemet, CA to Rolland and Rhoda Nichols.
Her family moved to Bishop in 1947 when her father was transferred to the area with the California Highway Patrol. She graduated from Bishop Union High School on June 9, 1953, and married Howard Holland on the same day. Together they raised three children: Mike, Dan and Donna. She was a wonderful, tolerant and patient mother to her active kids. The family fondly recalls many eventful camping trips in Northern California and southern Oregon.
Wenda worked as a bookkeeper for various local businesses including Clyde Slagle Insurance, Joseph's Bi-Rite Market and Z's Flowers. She was active in the Jr. Women's Improvement Club and a volunteer Cub Scout Pack leader, Brownie Troop leader and 4-H Project leader. In 1975 she and Howard traveled with 60 BUHS band members as chaperones on a three-week European tour. After her children were grown, she began volunteering at the Laws Railroad Museum as membership chairman. Along with her sisters-in-law, Bonnie Lee Ford and Arlene Morris, she helped set up displays in the Conway House, General Store and the Agent's House. These displays are still on view today. She single-handedly sewed countless calico bonnets for the Museum gift shop which were sold to visitors from around the globe.
Wenda was talented and creative in many hobbies including sewing, needlework, ceramics, knitting and crochet. Over the years she won many prizes for her entries at the Tri-County Fair. She was an avid reader of mystery novels and enjoyed working crossword and other puzzles. She leaves behind a family who will always be grateful for her love and care as a wife, mother, grandmother, sister and friend.
Wenda is preceded in death by her parents and sister, Gwen Coons.
Survivors include husband of 61 years, Howard; sister, Lynda and husband Lloyd Wilson; sister-in-law Arlene and husband Conrad Morris; son and daughter-in-law, Mike and Annette Holland; son and daughter-in-law, Dan and Donna Holland; and daughter Donna Bird and companion Tim Winkler, all of Bishop. She is also survived by her five grandchildren, Jennifer and husband Matt Meier, Natalie and husband Mac Heiden, Kyle Holland, Katie Bird, and Aimee and husband Torey Michener; great-grandchildren, Taryn and Dylan Michener; and numerous nieces, nephews, and friends.
Graveside services will be held at 11 a.m. Feb. 24 at the Pioneer Cemetery on West Line Street in Bishop with a reception to follow. In lieu of flowers, donations may be made in her memory to the Laws Railroad Museum or the Bishop United Methodist Church Senior Services.