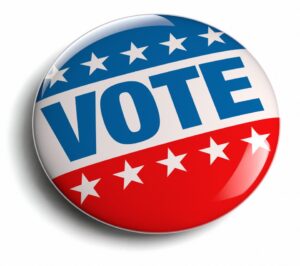 By: Kammi Foote [email protected] 760-878-0224
Nothing will stop democracy in America, not even a global COVID-19 pandemic! Every eligible Inyo County, United States citizen will have the opportunity to vote in the November 3, 2020 Presidential Election. There are going to be a few changes this year, but all voters should know that no one in Inyo County will have to choose between their health and exercising their right to vote. Anyone who wants to vote by mail, can. Most voters who want to vote in person, can.
First, to make sure that there is no delay in receiving election materials, voters should verify their voter registration information at www.voterstatus.sos.ca.gov, or email [email protected],  and ensure their current residential address or mailing address is on file. Voter registrations can be updated online at www.registertovote.ca.gov or paper voter registration cards are available at any United States Post Office.
By October 5th, all registered voters will be mailed a ballot with all of the information they need to vote, inside the ballot envelope. No additional application will be required.  There will not be a separate local Sample Ballot mailed to voters, because their Voter Information Guide will be in the ballot envelope. If a voter does not receive their ballot by October 12, 2020, they should immediately contact our office at 760-878-0224, so that we can ensure they are properly registered and send a replacement ballot if necessary.
Voters have options to return their ballot to the elections office, in order for it to be counted. New this year, there will be outdoor Ballot Drop Boxes in Bishop, Big Pine, Lone Pine and Tecopa, and staffed, indoor drop boxes in Independence and Death Valley. Drop boxes will be open beginning October 5, 2020 and until 8:00 pm on Election Day. A list of the locations can be found on the new Inyo County Elections website https://elections.inyocounty.us .
Voters can mail their ballot (no postage required) back to the Inyo County Elections office.  It is a legal requirement that a mailed voted ballot envelope have a postmark showing no later than Tuesday, November 3, 2020 (Election Day). Last week, we took a virtual tour of the Santa Clarita USPS Processing and Distribution center and they assured us that there are no sorting machines being taken out of the plant, and in fact they will be adding a new package sorter. They also assured us that the additional mailed ballots will have little impact on their operations, as they are currently processing an average of 6.7 million letters daily. Voters who choose to mail their ballots, should do so no later than October 27, 2020 to ensure that the envelope timely reaches the elections office.
Voters can track their ballot, by requesting this service at www.WheresMyBallot.sos.ca.gov to receive automatic email, text or voice call notifications when their ballot is mailed, at certain checkpoints in the system and when it is received by the Inyo County elections office for counting.
It is a legal requirement that the signature on every returned voted ballot envelope be compared to the signature on the voter's registration card. If there is any issue with your signature, or if you forgot to sign your ballot envelope, the elections office will personally contact you to let you know.
In addition, all traditional polling places will be open for voting, collecting mailed ballots and to assist voters on November 3rd. To protect the health of our volunteer poll workers and the health of the community, we request that all voters who plan on voting in person follow the health and safety guidelines that are in effect in Inyo County at that time. Currently, it is anticipated that voters will be requested to wear masks, stand at least 6 feet apart and bring their own dark ball point pens (sharpies can bleed through the ballot).
Voters in Inyo County should be assured that no matter if they vote by mail, or in person, their votes will be counted.
If voters have any concerns, they are urged to contact our office directly at 760-878-0224 with questions. Our new elections website, https://elections.inyocounty.us provides a lot of valuable information, and you can keep informed by following Inyo Elections on Twitter, Facebook and Instagram.
All voters should make a safe voting plan. With voters as our partners, and community volunteers staffing in-person polling places, we can make this a smooth and safe election for all of us!