For many months, the new hospital project at Northern Inyo Hospital has moved ahead under a huge plastic cover to maintain temperatures for work inside. Next week, the plastic will start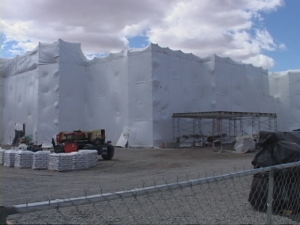 to come off.
Scott Hooker, hospital project manager, said that plastic removal will start on the small building on the southwest side. In days and weeks after that, the rest of the very large building will shed its white, plastic cover.
Crews will finish a plaster coat on the actual outside of the building before plastic removal. Hooker said crews will watch the weather which currently can't make up its mind to stay warm or cold.
As for what's up inside the new building, the project manager said mostly single-sided walls. About one-fourth of the building has dry wall and ceilings with the ceiling grid going in now.
Hooker said construction has remained just about on schedule with a ballpark expectation of a certificate of occupancy in December. In the first three months of 2012, people and equipment will go in. After State approval, patients will use the new facility.