Press release
Northern Inyo Healthcare District will host a "Meet and Greet" reception introducing some of its newest healthcare providers and its acting Chief Executive Officer to the community.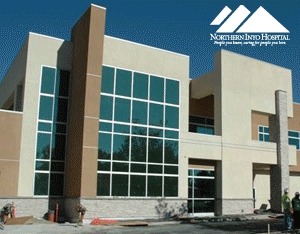 The reception is set for Wednesday, Oct. 14th, 5:30-7 p.m. at the main lobby of Northern Inyo Hospital.  The physicians spotlighted during the event include:
Felix Karp, one of NIH's two board certified Hospitalists. Dr. Karp grew up in Pacific Palisades and attended UC San Diego for both his undergraduate and medical degrees. He completed his residency in Internal Medicine at Los Angeles County Hospital/USC Medical Center. Dr. Karp works alongside Dr. Joy Engblade, caring for those hospitalized at NIH.
Martha Kim, board certified in obstetrics/gynecology and internal medicine. A graduate of Dartmouth Medical School, resident of Kaiser San Francisco Internal Medicine Department and the University of Hawaii, Dr. Kim specializes in abdominal and vaginal surgery and gynecological ultrasound. She works at The Rural Health Women's Clinic on the NIH campus.
Colleen McEvoy, Certified Pediatric Nurse Practitioner (C-PNP). McEvoy is a graduate of the University of California, San Francisco and has been a C-PNP for nine years. Her interests include adolescent medicine, pediatric hematology and oncology. She works at Northern Inyo Associates – Pediatrics & Allergies alongside Drs. Charlotte Helvie and Louisa Salisbury.
Allison Robinson, double board certified in General Surgery with specialization in Colon and Rectal Surgery. Dr. Robinson grew up in Big Pine and attended the Uniformed Services University F. Edward Hebert School of Medicine in Bethesda, MD, and completed her General Surgery residency at the National Naval Medical Center. She served as Staff Surgeon for the Naval Medical Center in San Diego for the past 10 years. She works at Northern Inyo Associates – General Surgery with Dr. Robbin Cromer-Tyler.
Louisa Salisbury, board certified Pediatrician. Dr. Salisbury hails from the San Francisco Bay Area. She is a graduate of the University of Vermont College of Medicine and completed her Pediatrics training at Tufts Medical Center in Boston. She works alongside Dr. Charlotte Helvie and C-PNP Colleen McEvoy at Northern Inyo Associates – Pediatrics & Allergies.
Sunny Sawyer, one of four Physician Assistants at The Rural Health Clinic. A native Californian and former botanist, Sawyer is a graduate of Campbell University in
North Carolina. Her interests include family medicine, wound repair and minor surgical procedures.
In addition NIH welcomes Dr. Kevin Flanigan, its acting Chief Executive Officer, to the facility and the community.
Dr. Flanigan comes to Bishop from Pittsfield, Maine where he most recently served as the medical director of Maine's Medicaid program, MaineCare, for the past four years. Prior to that, he was a Pediatrician and Internist in Pittsfield for nearly 15 years. He is a graduate of the University of Richmond and the Medical College of Virginia, and completed his internship and residency training at the University of Louisville in Kentucky.  He earned his Masters of Business Administration from the Isenberg School of Management at the University of Massachusetts Amherst.
Dr. Flanigan moved to Maine from Virginia more than 20 years ago, residing in Pittsfield with his wife, Kelly, a certified registered nurse anesthetist, and their three children.  He was named NIH's Acting Chief Executive Officer in mid-September.
###
Northern Inyo Hospital is a 25-bed, not-for-profit Critical Access Hospital located in Bishop. Accredited by The Joint Commission, NIH has been providing health care to the Eastern Sierra since 1946.
###
NIH Healthy Lifestyle Talks continues
Dr. Richard Meredick will give a free talk about Upper Extremity wellness Thursday, Oct. 15, 6:30 p.m. at the Northern Inyo Hospital Birch Street Annex, 2957 Birch St., Bishop.
Dr. Meredick will talk about common hand, wrist, elbow and shoulder injuries and conditions seen most often by our active population. Learn about the signs, symptoms and popular treatment options to reduce pain and discomfort.
This talk is the second in a series of Healthy Lifestyle Talks presented by Northern Inyo Hospital.
Dr. Meredick is a Board Certified Orthopedic Surgeon. He specializes in Sports Medicine/Arthroscopy, and Joint Preservation. In his free time, he is an avid skier, hiker, cyclist and rock climber.