After weeks of bureaucratic hang-ups from the Office of Statewide Health Planning and Development, Northern Inyo Hospital got a building permit and actually started construction of the new hospital building.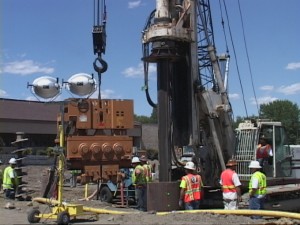 Work crews have started with the drilling and creation of some 200 concrete piers that make up the foundation of the new building. The Office of Statewide Health Planning required Northern Inyo to build these piers, fifty feet deep. While most feel this is serious overkill, the State bureaucrats would not give in. Their insistence will cost the public something like $3 million more.
This week, passersby could see huge cranes and drills that first dug out the fifty-foot holes for the foundations, inserted casings, poured concrete and then removed the casings. The whole, wide area now shaved off in a pit will house the new, much bigger hospital building.
Occupancy of the new building is now expected in October of 2011. Most of the funding for the project will come from a bond measure approved by voters in the hospital district.