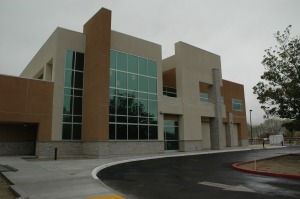 Perhaps the largest construction project ever in Inyo County has reached completion.  Northern Inyo Hospital will celebrate a grand opening of its new facility on Sunday at 1 pm.
Officials and the media were expected to tour the completed new hospital on Friday with a public celebration Sunday including cake, refreshments and live music from String Theory.  Check out the new Emergency Department, three surgical rooms, Recovery Unit, spacious private patient rooms, the Intensive Care Unit, and Labor and Delivery Department.   The State had issued the certificate of occupancy in April, and now officials await the official license from the state.  That's when patient services can begin.  After the grand opening, staff will begin to move in some equipment and furniture.
The completion of this major facility comes after two years of construction  and millions invested, including money from a bond measure supported by hospital district voters.   Hospital Administrator John Halfen had earlier estimated that the cost of the project exceeds $60 million.
The new building includes 25 private patient rooms with scenic views, operating rooms, an emergency room, recovery room and other services.  The design is modern and spacious with a high-ceiling lobby and outside garden for family of patients to enjoy.
While the Sunday celebration marks a major community accomplishment, actual use of the new hospital will likely come later this summer when the state issues the final license.