Norma Dorothy McFadden
1927-2016
Norma Dorothy McFadden, age 89, resident of Big Pine, CA for 5 years, born in Pittsburgh, PA on April 3, 1927 passed away on November 25, 2016 at the Bishop Care Center.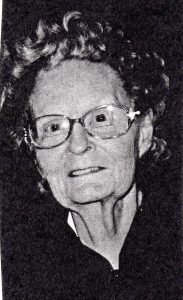 Born in Pittsburgh, Pa, passed on 11/25/2016 at the age of 89 years young with her loving family at her side.
She is preceded in death by her husband of 67 years Joseph B. McFadden.
She will be greatly missed by her sons Patrick, Michael and Richard, Daughter-in-laws Phyllis, Linda and Sandi. Her grandchildren  Megan, Matthew, Jimmy, Michael, Sara and Richard.
She was not only a wonderful wife and grandmother, but was a wonderful sister aunt friend and mostly a wonderful woman who throughout her entire life dedicated herself to doing God's work.
Norma is survived by Sister Carol Knifong of Missouri, sons Patrick, Michael and Richard, daughter-in-law, Phyllis, Sandi and Linda, grandchildren Megan, Matthew, Jimmy, Michael and Sara, along with many nieces and nephews.
Norma will be greatly missed and we will all hold her near and dear in our hearts forever. A private service will be held 10:00 am, Saturday December 3, 2016 at Brune Mortuary.