Noel Hoyt Lamkin, surrounded by her cherished children, grandchildren, and family passed away peacefully on a rainy Friday night, February 3rd, 2017.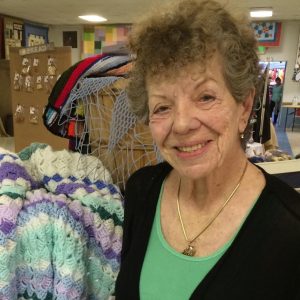 Born on December 31st, 1931 in Long Beach, CA to Ethel (Hoyt) and John Louis "Jake" Jacobson, Noel was raised in Fullerton, CA, where she attended Fullerton High School,  and later, UCLA, and University of Redlands.
Always expressing a creative gift, after college, Noel began her artistic pursuits in earnest with a fashion design assignment in San Francisco.  Noel's creative expression took many forms.  Each medium was a welcomed new challenge, and the many awards bestowed on her lovely creations are a tribute to her excellence.
Her prize-winning ceramics, jewelry, needlework, and pine needle baskets remain a lasting testimony to Noel's artistry and passion.
Annual vacations with her parents, first camping at June Lake and later at their McGee Creek cabin, instilled a lifelong love affair with the Eastern Sierra.
Ever determined, even snow laden mountain passes could not deter crossings between San Francisco and her beloved McGee Creek in her sporty '55 MG.
In the decades that followed and up until October 2016, Noel would share her Eastern Sierra passion with her family and friends through her hospitality at her beloved Cabin.  The enduring vision is Noel waving from the doorway, sending off the many loved ones with treasured memories of McGee Creek and "God's Country".
Over the years, her drive for excellence in her own diverse pursuits from diving to tennis to fishing and beyond, translated into her unwavering support for her children and grandchildren and their many endeavors.
Courtside, sideline, or in the audience, Noel was a loyal supporter of her children and grandchildren's sports, dance, and educational activities.  As the MVP fan, rain or shine, she rarely missed a game.
In recent years, even with technology her nemesis, she would come to depend on her trusty GPS to guide her to all of her grandkids' activities near and far.
Noel is survived by her loving daughters Stephanie Hake (Cliff) of Mammoth Lakes, Laurie Anast (William) of Santa Ana, Jamie Suard of Hermosa Beach, grandchildren Alexandra, Kassiani, Elleni, Blake, and Tanner, loving family recruits Ty Nichols and Kemp Stanford, and four legged family representatives Watson, Jasper and Indiana.
The Memorial service will be held at Fairhaven Cemetery, Waverly Chapel in Santa Ana, CA on February 25th, 2017 at 10:00am.  In lieu of flowers, donations in Noel's name are requested to St. Sophia Cathedral in Los Angeles or Eastern Sierra Wildlife Care Foundation.