No water flowing from the Owens Valley down the LA Aqueduct? Hopes and dreams for many people in the Eastern Sierra, and it's happening right now – but it's been in the works for weeks.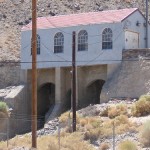 "There is not a major crack or a break in the aqueduct," said Chris Plakos, local spokesman for the Los Angeles Department of Water and Power. "It's routine maintenance. It's been planned for months."
Social networking sites have had posts about a major crack or break in the aqueduct and many DWP employees working near the Alabama Gates.
Plakos said the planned improvement project has been going smoothly but understands the public's interest.
"Yes, there's no water flowing down the aqueduct, and there's a lot of water going under (US Highway) 395 and into the (Owens) River."
Plakos said the routine maintence involves peeling off and then repairing parts of the walls of the aqueduct. Three different sections are being repaired, about one-half mile down from the Alabama Gates and 500 yards north of Whitney Portal.
He said of a 29-mile section of the aqueduct, there's about 250 yards of aqueduct being repaired.
Plakos noted that with the low snowfall last season and "one of the lowest exports ever in the aqueduct" this year, it was a natural time to make the repairs.
But it's not like LADWP customers are not getting their water.
"We added water to the reservoirs in southern California before we de-watered," Plakos said.
The repairs should be finished in a few days.