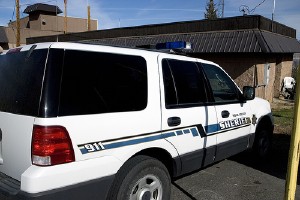 An investigation by Mono County Sheriff's officers into a bear attack report netted no findings.
On Tuesday, October 11, 2011, at approximately 2:30 pm, the Mono County Sheriff's Department dispatch received a call regarding a reported bear attack near the Twin Lakes area in Bridgeport. The caller stated that they heard someone say, "There's a bear in the bushes" and then heard screaming. Mono County Sheriff's deputies along with Mono County Paramedics and Bridgeport Fire Department were dispatched to the area of Twin Lakes to try and locate the potential attack victim.
The Mono County Sheriff's Department Search and Rescue team along with care flight were put on standby in case additional resources were needed. An extensive search of the area was conducted. No sign of a bear in the area was seen and no reported victim was located. All responders were cancelled from the area. No further calls or activity has been received.