Jody Meads is a quick study – and a fast runner over long distances.
A strong work ethic, a talented coaching staff and undeniable talent have lifted Meads to mind-bending results, and she's been training seriously for less than two years.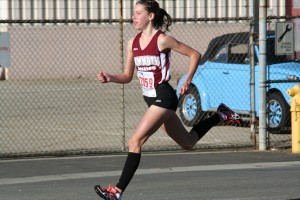 Meads, a sophomore at Mammoth High School, took first place in her heat Saturday at the CIF-SS Cross Country Preliminaries at Mt. San Antonio College in Walnut.
Meads needed a top-12 finish to advance to the CIF Finals, and ran another solid race, winning Division 5 Heat 2 in 18 minutes, 16.31 seconds over the venerable 3.1-mile Mt. SAC course, 13 seconds ahead of the second-place finisher.
Mammoth High cross country coach Scott Luke talked proudly of Meads.
"It's not always, in this day and age, people with the most talent, sometimes, they don't always work the hardest," Luke said. "She doesn't get outworked.
"She's a wonderful athlete to get to work with."
And many are working with Meads. Famed running coach Andrew Kastor devises the training plan, with Tomas Rodriguez, Jeff Meads, Jody's dad, and Luke helping out to add to the successful mix.
"It's a nice, big group effort, a group project," Luke said.
Meads began running training in the summer of 2011, and the upward spiral has amazing. She took 7th place a few months later in CIF Division 5 last year as a freshman, and followed that up with a 12th-place finish at the state meet at Woodward Park in Fresno, the place all high-school cross country runners strive to be.
Meads needs a top-five finish of individuals not on a qualifying team in Division 5 to earn a return trip to Woodward Park.
Her sophomore campaign already has been prolific, winning eight of the 10 meets she's entered, including all three Desert Mountain League meets.
At 8:20 this Saturday morning, runners will line up for the CIF-SS Cross Country Finals Girls Division 5 at Mt. SAC, and Jody Meads will go for another run, many hoping it will lead to Fresno.
"She truly loves to compete," Luke said. "She's motivated."