The Town of Mammoth has still heard no reply from Mammoth Lakes Land Acquisition on the Town's counter offer to settle the $42 million airport lawsuit debt.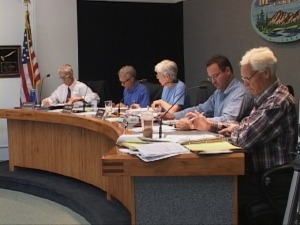 The Council has scheduled a closed session on that issue at 5pm as part of Wednesday's regular Town Council meeting.  Last month, Town Manager Dave Wilbrecht said that MLLA had made a settlement offer.  Mammoth responded with a counter offer.  Wilbrecht confirmed this week that MLLA has not responded to Mammoth's counter offer.  He did say that the stay agreement between the two parties was extended for another 30 days.  This agreement guarantees that MLLA will not try to collect the debt and Mammoth will not file bankruptcy while the two parties negotiate.
Meanwhile, closed session discussions continue between the Town Council and their negotiators, Town Manager Wilbrecht and Advisor Marianna Marysheva-Martinez.  Wilbrecht had earlier advised members of the public to contact Town Council representatives if they have input on the MLLA issue.
In other matters before the Council, recognition will go to outgoing Forest Service Deputy District Ranger Mike Schlafmann.  The Council will honor their own employees – 15 years of work for Mammoth Police Lieutenant John Mair and 20 years for Revenue Specialist Shannon Freeman.
The Council will hold a public hearing on amendment of the Business Tax as well as changes in municipal code to deal with Transient Occupancy as a business.
The Council will also review and prioritize possible Town projects for the 2012 Regional Transportation Plan and State Transportation Improvement Program.