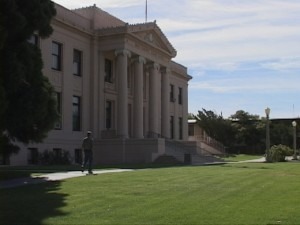 The threat of layoffs has lingered over Inyo County government for several months as the County Administrator warned of a $2 million shortfall. Department heads searched for ways to save money. The CAO recommended budget goes to the Supervisors in budget hearings Wednesday starting at 9am in the boardroom.
The CAO's budget does not include any layoffs or elimination of services. It does include 9 employees who took voluntary separation plans, not filling some 7 vacant positions, and a nearly $666,000 savings in so-called Service Redesign. Money left over at the end of the year, known as the fund balance, amounts to nearly $3 million and will be used to balance the new budget.
CAO Kevin Carunchio said the County's structural deficit was reduced by $1 million but still exists. He also said, "Trends first identified in last year's budget continue to suggest that methods used to balance this year's budget can not be sustained." He said the end of the year fund balance will get smaller and smaller, trust funds are shrinking, public safety costs are growing, and there will be less savings from eliminated jobs as time goes on.
The recommended budget is balanced at $88.5 million with revenues of $84 million. The fund balance will make up the difference. Carunchio said his budget maintains core county services and programs and avoids significant reductions and layoffs. His message predicts an unstable future when he says, "…the journey ahead is not free of peril and may still visit way stations of disappointment."
Some of the items the new budget will provide includes funding for a new animal shelter, matching funds for Bishop and Lone Pine Airport improvements, funding for senior programs, and money for retiree healthcare costs.
The budget does not put money in the reserve fund, does not fund some post employment benefits, does not provide adequate general fund contingencies, funds half of grants to local organizations, and does not put aside money to challenge DWP if the solar ranch goes forward.
Budget hearings start at 9am Wednesday in Independence. A list of the order of hearing departments is available on the County's website. Officials did want to note that items regarding advertising and grants to local groups will now be heard at 3pm instead of 4:30pm.