It's one of those things you can try to place bets on, if you dare, and hope for the best – the opening of Tioga Pass, Highway. Eastern Sierra businesses always hope for Memorial Day. Not much of a chance this year.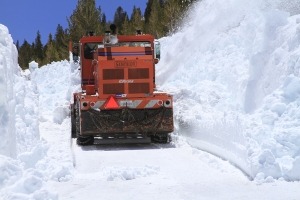 According to Caltrans, Mono County crews and Caltrans District 9 have worked hard to clear the huge amount of snow on Highway 120/ Tioga Pass to the Yosemite National Park gate. At last word, Caltrans workers have cleared a path to the gate and continue to clear the roadway and shoulders.
The gate at the bottom of Tioga Pass will remain closed until Yosemite National Park has cleared their portion of 120. The Yosemite website updated last Friday says that crews plowed to Porcupine Creek Trailhead. The site says there is no estimated opening date for Tioga Pass or Glacier Point Roads.