The dig for bodies at Charles Manson's old hideout has ended. The Inyo Sheriff's Department concluded that "there are no human remains in or around the five areas of interest." On Wednesday, law enforcement, the media and scientists packed it up to leave the Barker Ranch area.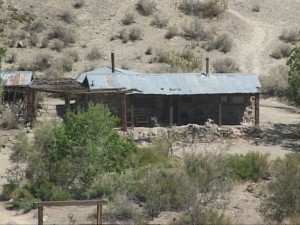 Scientists apparently agreed with Sheriff's men that frurther excavation was pointless. In a press release, the Sheriff's Department explained that Sheriff Bill Lutze had authorized exploratory excavation to confirm or put to rest speculation that bodies may remain from the Charles Manson era.
Investigators and scientists used portable ground penetrating radar, magnetometers, lasers and a system called ALS (alternative light source) to examine the dry ground at Barker Ranch. Sheriff Lutze said, "Lasers will help us locate tiny bone and tooth fragments which might be overlooked with conventional search methods."
Officers said that forensic investigation started on five hot spots Wednesday morning. They said that the first site, the largest of the five, yielded a bullet casing. Excavation of the second site of interest was turned over to the National Park Service when remnants of what appeared to be ash and small animal bone were discovered. The Park Service determined that this particular site would be handled as an archeolotgical dig. The remaining sites were excavated and no indicvations of human remains were discovered.
Sheriff Lutze plans to hold a press conference at a future date to answer any questions about the Barker Ranch excavation.