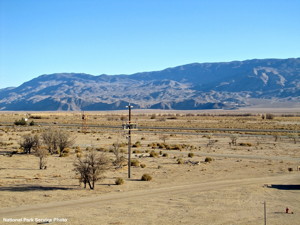 Dear LADWP,
I encourage you to include the cultural impacts in the EIS. Because this site does have historical significance.
Regarding your plans to build a solar array in the Owens Valley. I am a descendent of many pioneer/settler families in the Owens Valley: the Yaneys; the Skinners; the MacIvers; and the McGees. Sadly the latter were part of the massacre at Owens Lake, that your LA Times reported on a few months back.
Just last night I found out that your solar array location plans will destroy historical remnants of my families' Skinner/MacIver homestead/sections, including a graveyard, and the MacIver Ditch that my Grandfather Finley MacIver constructed. Also it will take out the narrow gauge rail line that the Slim Princess rode on. My grandmother, Frances Eva (nee Yaney) MacIver (daughter of Eva McGee Yaney) was on it's last ride, as I recall from family stories.
I have called my elderly cousin in Bishop, my father, my cousin who is co-executor of my grandmother's estate with my father, and my aunt; and none of them or anyone else in the family had been contacted about this project by POWER Engineers, Inc.
My family is part of the economic diaspora from the Owens Valley in large part due to the Aqueduct. However, I am planning to return to the Owens Valley soon to live as my children are grown and on their own. I have grown up always believing that I was supposed live in Bishop. My parents had to move to Victorville for my father's job when I was five. We travelled one weekend each month up to Bishop from when I was in kindergarten to my senior year in high school to visit their parents, my grandparents. So during my growing up years I was very much and still am a member of the Owens Valley/Bishop community. Additionally my grandfather, Joe MacIver worked for the DWP.
I can't believe that POWER Engineers, Inc. could think that my family's site lacked historical significance as there is a street in Bishop named after them and we still own property on Main Street (where the Vagabond Inn and Denny's Restaurant are). As I have said before they didn't contact my father or my cousin about this as executors of that property. My elderly cousin has deeds and records of the property that she will be getting to me to share with you.
Additionally, my Uncle Dennis Bambauer was interned at Manzanar as a child and has made the pilgrimage back to it every year. He was a mixed race child from a Japanese woman and a US service man and an orphan, but was still interred! He was married to my mother's sister. Sadly, they have since divorced. I may need to make the pilgrimage this year as his Parkinsons may not let him return. I join in his stead and Manzanar in asking you to respect that sacred site and the request of those at Manzanar to not site this project.
In closing I wish to remind the DWP and the City of LosAngeles that the trade for our water, was tourism. This project will impact our tourism greatly. And frankly what I see from my recent visit to the Owens Valley, is that we're, you and I, not doing too good on that tourism. So many boarded up restaurants and other places that I remember as a kid, Welches in Big Pine, the Pines in Independence, etc. I hope we can join together to work toward a better tourism trade, throughout the whole valley. Getting rid of a rail line will not help that at all.
And I don't see how this project works toward the "greater good" that Teddy Roosevelt traded our valley for to you LA. The LADWP, may own the property,  but the reason you own property in the Owens Valley is ONLY for the Aqueduct and for no other purpose.
If the DWP wants solar arrays, please consider putting them over the Aqueduct. This will alleviate evaporation and be a more responsible use of our shared water. Or put them in LA over parking lots, on resident's houses, etc. I agree that we should be solarizing as much as possible. But large scale solar arrays are not compatible with many landscapes, especially the Owens Valley. They kill birds, increase flash floods, and this one would have significant line loss too. There are concerns about the health effects of power transmission and distribution systems which would not be an issue if the photovoltaic cells were distributed across rooftops, etc. closer to the point of consumption.
I look forward to the next century of cooperation between the City of LA, the LADWP, and the residents of the Owens Valley that takes into account those of in the Owens Valley. Please join me in working toward that.
Many kind regards,
Yaney LA MacIver