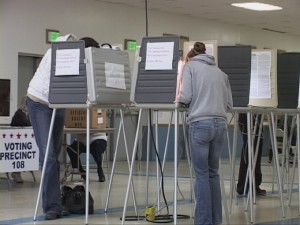 Except for the Mammoth Town Council race, all of the rest in Mono and Inyo Counties seems to be in place for the June election. Monday marked the first day candidates could file nomination papers. The deadline is March 7th.
Long-time Mammoth resident and business woman, Deb Pierrel did pull nomination papers Tuesday. She had said this is a "pivotal juncture" for the community. She sees her "activism, volunteerism, service and involvement in the community" as strong points.
Incumbents are not rushing to file papers. Mayor Rick Wood said, "Despite the rumors that I definitely am or am not running, and I have heard both, I am considering it and will announce my intention soon." Wood said it is an important decision for himself and his family. Wood has spent twelve years in all on the Town Council.
Councilman Matthew Lehman said he is not 100% decided and is leaning toward not running but is weighing all the options. He said, "Deciding to run for a second term has been a challenging decision. I'm proud to be a representative of the community in which I grew up," said Lehman, "very proud, but I have to find a balance between finding enough time to properly represent the Town and maintain a reasonable living." Lehman said taken seriously, the Council job requires a significant amount of time.
Councilman John Eastman will not run again. Eastman did call the upcoming election "a golden opportunity" for those who want to serve. He said he hears there are at least "two and maybe even three different groups in Mammoth Lakes that are organized, and meet regularly, in an effort to come up with either a candidate platform or to identify potential candidates to run for Town Council." Eastman said he personally believes "there are dozens of individuals in Mammoth Lakes who would make excellent representatives."
On the Mono County scene – if nomination papers are filed, the race is on for District 5 Supervisor. Stacy Corless, Kirk Stapp and Greg Eckert are the candidates. District 1 Supervisor filings would see Supervisor Larry Johnston and Bill Sauser as candidates. Sheriff Ralph Obenberger and Officer Ingrid Braun will go for Sheriff. Assessor Bob Musil, Barry Beck and James Ackles will run for Assessor.
In Inyo County – if nomination papers are filed, the District 1 Supervisor's race will see three candidates. They are David Tanksley, Bill Stoll, and Dan Totheroh. District Attorney Tom Hardy will seek election and so will his assistant Joel Samuels.