Northern Inyo Hospital's new CEO, Victoria Alexander-Lane, attended her first board meeting Wednesday. She previewed more discussions to come at the April  16th regular Board Meeting.
Lane told the Board that there is "a lot of change" going on. A new leader has come in, she said, and there is the need to have a strategy and plans for the internal organization with information brought to the Board. We don't have that right now, said Lane. She suggested a different approach to Strategic Planning.
The new CEO said it would be good at this point to take information gathered and create a committee with members from the Board, Medical Staff, and Staff. Said Lane, "We can drill down into the information and make sure its working." She suggested a draft plan brought back to the Board for approval and execution. CEO Lane said that "Frankly, there is a lot of work to be done."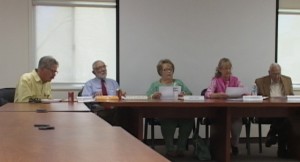 The CEO said meetings of this committee would take place during the day so there is no overtime to pay staff. She repeated that there are huge amounts of data to go through and that, "as we speak," she said, "we are changing the rules of the game internally." She did not elaborate. Lane did say she wants a Strategic Plan that works. "An actual, meaningful document," she said, "that holds people accountable."
Lane also suggested inviting someone from the community at large to join the new committee. She said this should not be a friend of Board members but someone with an objective view. Said Lane, "I want to hear it if we're not serving people the way we should."
Next week, at the regular Board meeting, more details of changes under the new administration may be revealed when CEO Lane reports on organizational restructuring. She will also report on physician recruiting and on a meeting with Mammoth Hospital CEO Gary Myers.