Press release
A collaborative approach to emergency care services at Northern Inyo Hospital ensures two more years of continued quality care by physicians familiar with the community.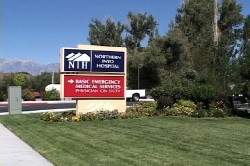 The NIHD Board of Directors unanimously approved an agreement between Northern Inyo Hospital and Eastern Sierra Emergency Physicians (ESEP) during Wednesday's regular NIHD board meeting.
Kevin S. Flanigan, MD MBA, NIHD's Chief Executive Officer, told the directors that Drs. Jennie Walker and Helena Black, who operate ESEP, were "exceptionally collaborative in conversations" with him regarding the new agreement.
"To maintain stability, to ensure staffing physicians who the community is familiar with, I followed through with continued negotiations with the ESEP," Dr. Flanigan said. "They were very gracious in their time allotment and their understanding even when it came down to the last couple of weeks and getting communications back and forth from legal counsel. We have come up with a contract that all parties are in agreement with."
Dr. Walker said ESEP is "thrilled" to continue providing emergency care services for the hospital. "Many of our physicians have been working and living in the community for more than 20 years," Dr. Walker said. "Also, we have successfully recruited several new physicians trained in Emergency Medicine who are excited to call Bishop their home."
The new agreement simplifies the way the hospital pays for the services. "Under this contract, NIH will be able to budget a very set amount each month that we will pay out to ESEP," Dr. Flanigan explained. "We are very appreciative of this as it will simplify our side of managing the books."
Under the agreement, ESEP would also become more involved in the healthcare district's pursuit of quality metrics and initiatives, enhancing communication between ESEP and NIH Emergency Department leadership.
Dr. Flanigan noted that January and February have been much busier months for the Emergency Department than in the past. He also said the Emergency Department is seeing an increase of one to two patients per day from both Southern Inyo and Tonopah, following the suspension of Southern Inyo Hospital's operational license and the August closure of the Nye Regional Medical Center.
"I would expect that number to continue to rise a little bit as people become comfortable with the care they are receiving here," he said.
###
About Northern Inyo Healthcare District: Founded in 1946, Northern Inyo Healthcare District features a 25-bed critical access hospital, a 24-hour emergency department, a primary care rural health clinic, a diagnostic imaging center, and clinics specializing in women's health, orthopedics and neurology, pediatrics and allergies and general surgery. Continually striving to improve the health outcomes of those who rely on its services, Northern Inyo Healthcare District aims to improve our communities one life at a time. One Team. One Goal. Your Health.