NIHD press release
Northern Inyo Healthcare District 's planned paving project will begin in earnest this Saturday. Paving contractors will be working onsite throughout the weekend, applying a slurry coat and re-striping the parking lot directly in front of and to the east of the two-story Northern Inyo Hospital building.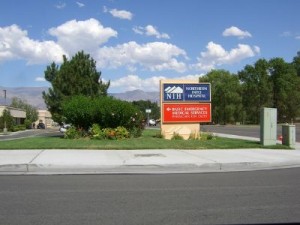 Visitors seeking access to the hospital are advised to use the Pioneer Lane entrance and travel around to the Emergency Department entrance at the rear of the hospital building. The paving work will begin Saturday, June 22, 4 a.m., and run through the evening of Sunday, June 23. The work will be completed in phases throughout the weekend to allow for patient parking to remain available.
The re-paving of the NIHD parking lots is scheduled to last through July. Such regular maintenance is essential for safety purposes, and NIHD would like to remind visitors and employees alike to please slow down and use caution when driving on NIHD campus parking lots.
The project calls for most repair work to be done on weekends when fewer visitors and staff are on campus to reduce inconvenience. Healthcare District officials noted that some preparatory work will need to be done on weekdays for the project to progress in a timely fashion.
The scope of the project calls for crack sealing, paving, and re-striping all NIHD parking lots including those for Northern Inyo Hospital, the Emergency Department, The Rural Health Clinic, Same Day Care, Rehabilitative Services, Diagnostic Imaging, and all outpatient clinics.
NIHD appreciates the patience and understanding of visitors and employees while this necessary project is under way.
Questions or concerns may be directed to Danny Webster at (760) 920-9619.